What do Millennials seek in their homes? The millennial generation is becoming an increasingly important part of the housing market. According to a 2015 National Association of Realtors study that looked at generational housing trends, Millennials, those born between 1980 and 2000, comprise the largest segment of the buyer market.
According to Census Bureau data, the 2020 millennial homeownership rate was 47.9 percent, while for Generation X (those aged 40 to 55) it was 69.1 percent and for boomers, it was 78.8 percent — "higher than ever before," the report said. Feb 9, 2021
What Kind of Houses are Millenials Buying?
Millennials are buying homes later in life than previous generations and are doing away with many of the traditional home elements their parents desired. Trends among millennials include a desire for multifunctional and community spaces, and homes with modern, sustainable elements.
They're young professionals who prefer a turnkey home that needs little or no work. They are creative,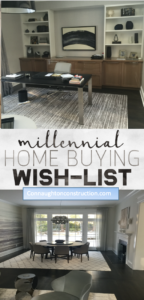 romantic buyers who want to invest sweat equity and money over time. They want to put their personal stamp on the property, to add value for the future. Research shows they want sustainable construction, energy-efficient homes, smart technology, updated kitchens and baths, open floor plans, and home offices.
Sustainable Construction
Millennials seek to have homes that are higher energy efficient than the standard construction methods. Sustainable construction for a millennial combines an integration of the ecological, economic, and social balance. These components create cost-shifting opportunities to benefit both the efficiency of the home and the builder's bottom line.  See Green Home Building and Sustainable Architecture.
Millennials seek Energy Efficiency
With energy costs on the rise and growing interest in protecting the environment, young buyers are conscious of buying homes that are green.
Today's buyers are looking for energy-efficient homes. If the home is not already set up for energy efficiency, the Millenial buyer will factor those costs into their budgets so they can do it after they buy. Millennials are savvy on insulation levels, seasonal energy-efficiency ratios and other energy-efficiency factors.
Smart Technology
Today, buyers want to know about the home's technology. They want to hear about the local cell service and Internet speed capability.
In some cases, a house's appeal can be increased or diminished because of the strength of a mobile carrier's signal or its Internet service provider options. Internet and cell service matters a lot to this generation. They're going to ask how well the cell signal and internet service is at this location.
Updated Kitchens and Baths
They want to buy a home with new kitchen and new bath fixtures and design. New fixtures are especially important for today's young, budget-conscious buyers.
The primary reason younger buyers seek updated kitchens and baths is that they have limited budgets. Most of their savings will go toward the down payment and furnishings. Kitchens and bathrooms are also the most expensive parts of a home to update. Young homeowners cannot afford to sink a lot of money into those areas.
While updated kitchens and bathrooms may bring in a younger crowd, remodeling costs should give a seller pause. After all, if those updates aren't in a young buyer's budget, they probably aren't in a seller's budget either.
Open Floor Plan
The kitchen has become the hangout room along with the family room. An open space that can easily transition from kitchen to TV room is high on the list of the perfect home for young buyers. In essence, the kitchen is the new living room.
Millennials are attracted to an open floor plan, rather than a layout with many small rooms dividing the home, because the younger homeowners entertain. They want people to flow through the home during gatherings, rather than be sectioned off in rooms.
Home Office
More than 13 million Americans work from home. All signs point to that trend continuing, which makes a home office important for many buyers. Home offices have vast appeal and are not just for those who work from home full time. As technology continues to make us more mobile, young buyers have more options than ever to work from home, depending on their job. Having a dedicated space is important because it will help keep them focused and concentrated on work while they are at home on a call, planning a presentation, setting up their workday, or simply paying bills.
Other Things Millenials Want in A Home
In addition to wanting multifunctional and community spaces, and homes with modern, sustainable elements, Millenials want great locations, outdoor spaces, modern amenities, low maintenance, and multifunctional spaces.
Millenials want Great Locations
Some things remain the same across all generations; the importance of location. Research has shown that millennials want to live close to work with things to do. This is a huge deciding factor for them when choosing a home.
You would think that urban areas would accommodate this request more than the suburbs, but this may not be 100% true. Those between the ages 25 to 34 are less likely to live in urban areas. The urban lifestyle isn't always the perfect fit for this generation.
Millenials want Outdoor Spaces
Millennials want relaxing outdoor spaces, including amenities like vegetable gardens, decks and fences.
When it comes to prepping your home for the millennial buyer, spend some time focusing on curb appeal. Is there sufficient space for relaxing or an outdoor gathering? It doesn't have to be the large backyard with a white picket fence, but make sure it's a space that prospective homebuyers could feel comfortable in with their friends. There are plenty of great small yard landscaping ideas.
Consider offering outdoor extras that you could throw in with the purchase. Could you include a grill? How about the riding lawn mower? A perk can do wonders when it comes to any potential home buyer.
Modern Amenities for Millenial Homes
While space isn't as big of a concern for most millennials, they want their homes to come with modern, high-functioning amenities. This includes items like dishwashers, washers and dryers, and space to exercise. If you're selling a condo, having access to personal amenities isn't necessarily a must. In a study by the National Association of Home Builders, more than 80% of millennials want things like laundry rooms, hardwood floors, patios and garage storage.
Home automation is another amenity that piques the interest of millennials. Many want the ability to interact with their homes in the same way they do with their smartphones. There are varying levels to the smart house setup, whether that's automated security, heating and cooling, lights – the list goes on. But if you really want to appeal to millennials, start thinking about ways to make your home more tech-savvy.
Low Maintenance
Millennials expect all things to be quick, efficient, and long-lasting. They're a microwave generation, and convenience is of the utmost importance.
When prepping your home to sell, think about renovations that speak to the utility-focused millennial. Consider switching out carpeting – which stains easily and requires regular vacuuming – for hardwood floors. Similarly, synthetic or composite decking might appeal to them over a traditional wooden deck. Often made of recycled materials, this option will need only a periodic clean with soapy water.
And these low-maintenance options can even extend into the yard. Take a look at installing irrigation and replace grass with interlocking blocks in the landscaping. They are energy efficient and requires less time mowing during summer.
Multifunctional spaces
Millennials are pursuing interior layouts with more open spaces that can be used for multiple purposes. They do this both for social and practical reasons.
Socially speaking, this allows them to interact casually with guests throughout the entire house. They aren't confined to just hosting in the dining room. They can move around the home and entertain casually.
When it comes to smaller homes and condos, having multifunctional spaces is a necessity. In an interview with REALTOR® Magazine, East Coast-based architect Arthur Lasky explains that "Exercise equipment may share space in a bedroom, and a hammock may get tucked away into a dining corner if there's little outdoor space."
As you're prepping your home for millennial buyers, make sure you show off your home's versatility. You don't necessarily need to knock down a wall to create a more open floor plan. Start by shopping at a store like IKEA or the Container Store, where you can see different ways to use your home's space.
Connaughton Construction has over 30 experience implementing sustainable construction, energy efficiency, smart technology, updated kitchens and baths, open floor plans, and home offices.
 Request an in-person Consultation with Connaughton Construction and let the new custom home project begin. Design your story with Connaughton Construction.
---
Do you have your own project and need the hand of an experienced custom home builder?
Contact Connaughton Construction to discuss your sustainable construction, energy-efficient home, open floor plan, kitchen and bath update, home office design project.
Set up your personal Home Builder/Renovation Consultation.
If you prefer to talk to someone on the phone, please call John with Connaughton Construction at 781-899-1438 x 14 or  Ellen at x13.