#1 Reclaimed wood flooring
What is Reclaimed Wood Flooring?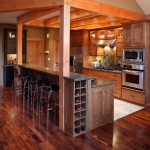 Reclaimed Wood Flooring is Eco Friendly Choices for Building and Remodeling. How? Because it is processed wood retrieved from its original application and reused. Most reclaimed lumber comes from timbers and decking rescued from old barns, factories and warehouses. Some companies use wood from less traditional structures such as boxcars, coal mines and wine barrels. Reclaimed or antique lumber is used primarily for decoration and home building. For example as siding, architectural details, cabinetry, furniture and flooring.
Reclaimed lumber is popular for many reasons: the wood's unique appearance, its contribution to green building, the history of the wood's origins, and the wood's physical characteristics such as strength, stability and durability. The increased strength of reclaimed wood is often attributed to the lack of air pollution that existed up until the 20th century as well as to the wood's often having been harvested from virgin growth timber, which had hundreds of years to grow before human intervention.
Reclaimed beams can be sawn into wider planks than newly harvested lumber, and many companies claim that their products are more stable than newly cut wood because reclaimed wood has been exposed to changes in humidity for far longer and is therefore more stable. This stability allows it to be used with radiant heating systems. In some cases, the timbers from which the boards were cut had been naturally expanding and contracting for over a century in their previous installation. Radiant heat, with its low temperatures and even distribution affects the wood flooring the same way, but the impact is much less dramatic with antique wood than newly sawn wood because antique wood has already been through this cycle for years.
#2 Caesarstone quartz countertops to create truly unique environments
Caesarstone, another Eco Friendly Choices for Building and Remodeling, is a beautifully engineered quartz stone which comprises approximately 93% natural quartz. Practical, durable, and attractive it has significant advantages over natural stone and other surfacing materials due to its superior strength and quality. Caesarstone's quartz surfaces retain the cool, tactile qualities of natural stone while enabling the user with a durable work surface designed for ease and convenience.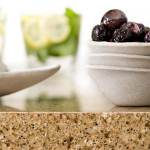 Quartz is ideal for virtually any interior work surface. The applications can extend to your kitchen countertops, bathroom vanities, backsplashes, wall paneling, commercial interiors, furniture and flooring. 
Caesarstone's quartz surfaces never need sealing and require minimal maintenance to keep them looking like new. The hard, non-penetrable surface makes cleaning simple and in most cases, soap and water or a mild detergent are all that are required to maintain its lustre.

Next Month … Choosing colors, textures and exploring applications of caesarstone quartz countertops.
#3 Low Volatile Organic Compounds (VOC) Paints; something's in the air
How is Low VOC Paint an Eco Friendly Choice for Building and Remodeling? It helps reduce emissions that pollute, which helps improve air quality. paint-related products are one of the worst environmental offenders. They're the second largest source of VOC emissions into the atmosphere after automobiles, responsible for roughly 11 billion pounds every year.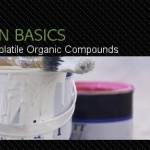 Household paint contains up to 10,000 chemicals, of which 300 are known toxins and 150 have been linked to cancer. Some of the most harmful chemicals found in paint are VOCs. These chemicals aren't something you want to spray on your body or potentially even keep inside your house.
VOCs are unstable, carbon-containing compounds that readily vaporize into the air. When they enter the air, they react with other elements to produce ozone, which causes air pollution and a host of health issues including breathing problems, headache, burning, watery eyes and nausea. Some VOCs have been linked to cancer, as well as kidney and liver damage.
As paint dries, the harmful VOCs release into the air at high levels. Indoor VOC levels are routinely 10 times higher than outdoor levels, and up to 1,000 times higher immediately after painting. Although VOC levels are highest during and soon after painting, they continue seeping out for several years. In fact, only 50 percent of the VOCs may be released in the first year.
They are most well-known for the harm they can cause indoors, where they can be introduced via paint, carpets, furnishings, and cleaning agents.
5 Eco Friendly Choices for Building and Remodeling Part 1 of 2
5 Eco Friendly Choices for Building and Remodeling Part 2 of 2
---

Do you have your own stairway design and need the hand of an experienced custom home builder?
Contact Connaughton Construction 
to discuss your luxury design project.
Set up your personal Design Consultation.
If you prefer to talk to someone on the phone, please call John with Connaughton Construction at 781-899-1438 x 14 or  Ellen at x13.
More Inspiring articles
Top 10 Luxury Design Trends 2014
Connaughton Construction Featured in New England Home
Selecting Reclaimed Flooring for the Home or Store
5 Eco Friendly Choices for Building and Remodeling Part 1 of 2
5 Eco Friendly Choices for Building and Remodeling Part 2 of 2
Six Critical Decisions a Construction Manager Helps You Make