Boston's Back Bay
310 Marlborough St,  formerly a multi-family home with approximately 4,704 square feet, built in 1899. The average list price for Back Bay today is $2,429,400. This is one sought after neighborhood in Boston, ranking as Boston's Luxury Properties. The panoramic views and exceptional location in the trendy and sophisticated Boston's Back Bay make residences on Marlborough Street one of the most desirable.
What was once a 7 unit brownstone is under renovation into a single family of four. It's getting a total overhaul. In this five story frame, we're reframing all the walls, leveling the floors, new insulation, new lighting and new wiring throughout. We're implementing new heating, new plumbing, new fire sprinkler system independent of the plumbing system, and new electric. A three-phase electrical is in for the new elevator and electric heat pumps; requiring a new tie-in at the street. Rock wool insulation is going into the entire place; ceiling, walls, stairs, floors. Rock wool insulation is safer, having no formaldehyde, makes it more green, eco-friendly and resistant to fires. In addition to the rock wool insulation, we are installing polyicynene closed cell spray foam at the top floor ceiling and roof and at the front mansard roof; an energy efficient rating of R38.
We are renovating 5 fireplaces with choice of stone, marble and wood, gracing the garden level, the master bedroom, the music room, second floor, and dining room.
Garden Level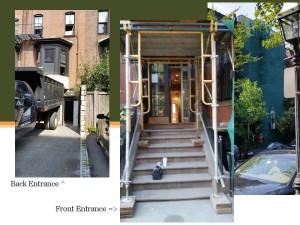 At garden level we have a bedroom, bath, storage, 2 large closets, a wet bar, family room with a fireplace, an entrance at the front and back.
Back Entrance (left image) the outside Back Entrance Parking court will have a heated brick driveway versed with an electric radiant floor heating system automatically clearing the snow. The cinder-block dividing wall will be all brick.
Music Room Makeover Inside and Outside
Front Entrance above will take you up the brownstone steps, through mahogany french doors, pass the parlor room, the mahogany library and a music room.
For the music room (top image) makeover we are refinishing the mahogany fireplace, retrimming the bay window and reframing the walls. To bring the fireplace up to code, the chimney flue is getting a new stainless steel liner.
The Bay window is the music room overlooking the parking court.
From the outside (left image) the bay window is getting restored with a new base. The white base is weather resistant PVC trim, soon to be black to match the top.
Hyper Heat Heating and Cooling System
The second level houses the gourmet kitchen, a big family room and a dining room with gas log fireplace.
Building closets left and right, installing ductwork shared by the AC and new HVAC with Hyper Heat Heating and Cooling System.
Getting up-to-code with the city requires installation of the new sprinkler system. With the new sprinkler system we're installing 2″ fire lines from the street separate from the domestic water system.
On-Demand Tankless Hot Water Heater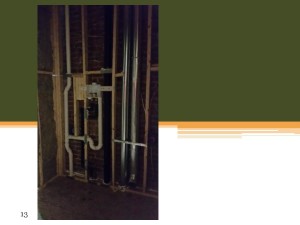 Master suite with separate study at the front with a laundry room.
Plumbing The new plumbing is black cast iron. Water flowing through cast iron piping is quieter than water running through pvc piping.
We are installing 3 new energy efficient gas fired on demand tankless hot water heaters. No tanks means no space needed.
Tankless hot water heaters provide the comfort and convenience of having a continuous supply of hot water. Gas-fired tankless water heaters produce higher flow rates than electric ones. Sometimes, even the largest, gas-fired tankless water heater cannot supply enough hot water for simultaneous, multiple uses in large households. To overcome this problem, we are installing three tankless water heaters.
Fourth Level
The fourth level has 3 bedrooms, 2 full baths, and 3 large closets, 1 of which is cedar.
Professionals use stilts to hang blueboard on the ceiling and walls.
Roof Deck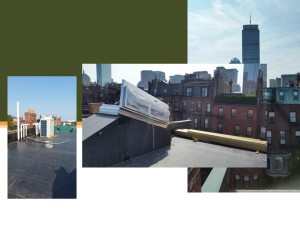 A new glass roof hatch (middle image) provides access to new outdoor space; the roof deck. Breath-taking view of the Prudential building and eco-friendly Green Roofs. We're framing with pressure treated wood and high quality, no maintenance Trex composite decking for the flooring.
The large white unit (far left image) is the energy efficient hyper-heat pump(HHP) condenser for heating and cooling. An air handler units is installed on every floor, small enough to fit in the ceiling, and connected to an HHP Condenser. For cooling, the unit blows air across freon cooled pipes, sending out cool air. For heating, the unit blows air across heated coils. The white pipes on the roof top are vent pipes for the water heaters. One is a fresh air in-take, and one exhausts air.
New Elevator with 3 Phase Electrical System
The new elevator shaft is under way. How's that for making life easy carting groceries, moving furniture, and carrying belongings between levels. A new 3 phase electrical system is in place due to the addition of the elevator and to bring the electrical up to code.
Private elevators is becoming a necessity in residential suburban living where the best use of vertical space is a must.
Current Project 310 Marlborough Street
---
Request a Consultation with Connaughton Construction for your project. Call 781-899-1438, ext. 14 for John. There never was a better time to enjoy your outdoor space.