How are Green Roofs for Healthy Cities?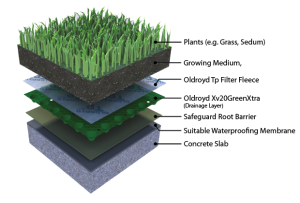 A "green roof" is an extension of an existing roof. In the image to the left, you see six layers on top of the concrete slab, including a high-quality waterproofing membrane, a root repellant system or root barrier, a drainage layer, filter cloth, lightweight growing medium and soil, irrigation system and plants.
How do Green Roofs Make for Healthy Cities?
Green Roofs have Economic Benefits
Green roofs and services create jobs for many people. According to Green Roofs For Healthy Cities (GRHC), the demand for green roof installations requires and therefore helps create a business market for manufacturers and suppliers of all the required physical components. That is all the green roof layers, specialized garden nurseries, architects, landscapers, ecological design and engineering professionals, the labor and maintenance personnel.
Construction costs of green roofs vary from $10.00 to $25.00 per square foot. In Germany where they are more common, the costs of a green roof range from $8.00- $15.00 per square foot. The model green roof at Gund Hall at Harvard University costs $1.00 per square foot.
Green roofs can increase property values.
Green Roofs have Environmental Benefits
Green Roofs have cooling potential. Green roofs provide shade and remove heat from the air through evapotranspiration. Evapotranspiration reduces temperatures of the roof surface and the surrounding air. They help reduce the heat islands often found in urban areas.
The green roof absorbs heat and acts as insulators for buildings. This helps us use less energy for cooling and heating.
Green roofs are useful in achieving LEED certification for new and existing buildings.
Green roofs reduce air pollution and greenhouse gas emissions. By lowering air conditioning demand, green roofs decrease air pollution and greenhouse gas emissions. Vegetation removes air pollutants and greenhouse gas emissions through dry deposition and carbon sequestration and storage.
Green roofs improve human health and comfort. Green roofs, by reducing heat transfer through the building roof, can improve indoor comfort and lower heat stress associated with heatwaves.
Acoustic insulation properties also exist with green roofs. Many green roofs have been placed near airports with great results in noise reduction.
Green roofs enhance stormwater management and water quality. Green roofs reduce and slow stormwater runoff in the urban environment; they also filter pollutants from rainfall.
Green roofs allow us to grow food locally, eliminating the need to be transported. From herbs such as mint, Lemon balm, edible pansies, thyme, lavender, chives and different kinds of basil are just a few of the many herbs that flourish in the custom-built beds. To vegetables, such as tomatoes, herbs, greens, berries, wheatgrass, even some monster cabbage. Restaurants are turning to their own green roof gardens for self-producing fresh herbs and vegetables.
Where you can find Green roofs improving the quality of life in Boston?
Four Seasons Hotel, Boston, MA

Green Roofs Four Seasons Hotel, Boston, MA – Connaughton Construction

Boston City Hall, Boston, MA
Graduate Residences at Harvard University, Cambridge, MA
Cambridge Center, Kendall Square, Cambridge, MA
Healing Garden at Massachusetts General Hospital, Boston, MA
East Office Building at the World Trade Center in Boston, MA
Tufts University, Boston MA
Seaport World Trade Center, Boston, MA
Aside from being inconspicuous, low maintenance, and reliable stormwater management systems, green roofs can add natural beauty and aesthetic relief to a wide variety of settings.
---
Find a Green Roof Professional in the Boston area by Contacting Connaughton Construction today! or Call 781-899-1438, ext. 14 for John. There never was a better time to enjoy your outdoor space.