Imagine, if you will, the historic preservation of a building that was once ten to twelve small apartments. Now you'll find four multi-million dollar condominiums in prime location of Back Bay Boston; where luxury design unravels.
From a homeowners point of view, you might want to know you can experience this Grand Back Bay multi-million dollar condo, enjoying living on sunny side of Commonwealth Avenue. Live in a magnificent residence restored to a stately 2 story home with incredible 11 foot high ceilings, ornate detail and impeccable design.
 Coffered Ceilings, A Chef Kitchen Any chef would enjoy whipping up an extravagant meal in this kitchen. A joy to be in with the abundance of natural light. Not to mention everything right at your fingertips, plenty of counter space to design your meals. 3 bedrooms, 3.5 luxury baths, 3 fireplaces: living room, dining room and family room; Balcony to Roof Deck 40 sf deck off dining room, 300 sf private patio.
Hardly a project for the inexperienced. This type of restoration takes the skill and expertise of a team that includes an architect and a contractor who know the ins and outs of the land here in Boston.  The partnership between the architect and the contractor does not stop at the office. As business associates, Guy Grassi and John Connaughton share a vision when they collaborate. This particular project took 14 months and many tradesman; carpenters, demolition experts, roofers, welders, steel experts, tilers, brick layers. How do they all work together to make magic happen? Read on.
Hidden Challenges of Historic Preservation
What were the challenges you faced? How did you craft through them?
The Historic District of Boston has strict permitting guidelines. It takes an experienced and diligent team of architect and contractor to know the Back Bay Architectural Commission requirements. All exterior work (whether or not it is visible from a public way) requires the review of the Back Bay Architectural Commission.  A Certificate of Appropriateness, Design Approval, or Exemption Application must be submitted to and approved by the Commission prior to beginning any exterior work.
To keep a project moving, the Architect lays out the design and obtains the commission approval. The Contractor obtains the proper permits and keeps the project moving forward organizing many tradesman toward completion of the project.
This particular project at 313 Commonwealth Avenue, Connaughton Construction and Grassi Architectural Design Group added a penthouse to the fifth floor. This meant taking the roof off, raising the fifth floor; the ceiling height was too low. This modification raised a five story building to a five and a half story building.  "This is technical work!", says John, President of Connaughton Construction. " The amount of planning is intense. The materials that are required, planning with the weather, and length of time needed to complete this addition. Mix with the proper permitting involved, city officials, fire department, inspectors, Back Bay Architectural Commission need to be coordinated and satisfied."
Custom Designs that were included?
On the exterior of the back of the building, space was added to the back. New bricks were custom made to match the existing bricks in size, color and texture.
The trim on the bowed windows is all custom milled. The outside trim had to be matched exactly.Then there's the glass windows. This has  to be in line with upgrading historic building windows guidelines.  New window glass has to be matched exactly in size, color, the curved shape and wave in the glass. The windows installed in this building improve blast resistance and thermal performance.
The high performance retrofitting options meeting federal preservation standards are weatherstripping and glazing film,  blast curtains and shades,  laminated glass interior storm windows, and replacement glazing.
Personal Touches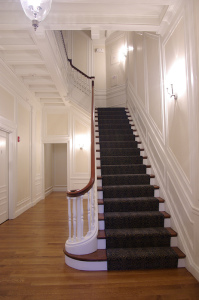 The original design of the main stairway from the Main lobby is preserved to look like new but its all original. Just beautiful paneling and framing on the walls, painted in bright and rich creamy whites. Accenting the dark wooden stair steps on white risers is pristine.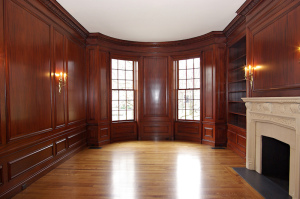 The Library, on the first floor, is restored to original design with Mahogany wall paneling and moldings along with the italian style limestone fireplace.
Unseen challenges
What you don't see is the foundation of the Boston's Back Bay buildings. They are built on wood piles. These wood piles exist submerged in water. The wood piles have to be under water. If they dry, they rot. When they rot, the building foundation becomes unstable. The entire building can sink or settle. If the earth shifts, the building shifts. If the building shifts, walls crack and structure becomes unlivable, and expensive to repair.
Our solution was to build a retention system under the parking area. This retention system collects all the water from rain or runoff, keeping the wood piles immersed in water. Open holes below allow water to drain into the soil.
That's why a project of this caliber and scope, you need an architect and a contractor that keeps policing the project, keeps it moving forward, gathers all the approvals of all the players. Permitting for this takes time and its a huge challenge coordinating all the requirements.
You can count on our team to deliver a quality project on time and on budget. This is one area Connaughton Construction's expertise pays for itself.
Book case flanked Limestone Fireplace
Contact Connaughton Construction
to discuss renovation of your project. We specialize in historic preservation. Set up your personal Consultation. If you prefer to talk to someone on the phone, please call John with Connaughton Construction at 781-899-1438 x 14 or Ellen at x13.
Get quarterly up-to-date information on other environmentally savvy home renovations.

More Inspiring Articles
Selecting Reclaimed Flooring for the Home or Store
5 Eco Friendly Choices for Building and Remodeling Part 1 of 2
5 Eco Friendly Choices for Building and Remodeling Part 2 of 2
Six Critical Decisions a Construction Manager Helps You Make
Caesarstone: Colors, Textures, and Applications
Connaughton Construction Featured in New England Home