The May/June 2014 Issue of New England Home magazine is featuring a luxury home renovation in a Boston brownstone with Connaughton Construction as the builder of choice. This renovation includes a refurbished grand staircase, a stairway turned into an elevator, a coal shoot turned wine cellar, an ornate skylight in a bathroom floor, and a roof deck. We tell it from the ground up.
A single family home, built in the late 1900's, divided into multiple units decades later is once again renovated back to a single family. Who wouldn't be seduced by its charm and elegance? Here you'll find traditional architecture meets contemporary design.
Creative designs in this luxury home renovation
A wine cellar
An old coal shoot gets a new lease on life as a wine cellar. This was no easy task. There is always a water  issue in basements, or any room under ground. This room was no exception. However, professionals were hired to seal the deal. 
Stain glass skylight in bathroom floor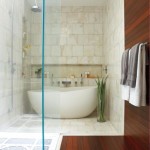 A stain glass floor in the master bath is a skylight to the stairwell below. An amazing way to light up a bath with natural light while adding unique architectural charm.
A new elevator
A stairway was turned into an elevator accessible from all five stories. The stair hall had to be reconfigured to fit the elevator. The elevator runs from the basement to the roof deck where you're view of the iconic prudential building. Who wouldn't enjoy this  private deck for sunning during the day until cocktails and star lit skies at night?
Roof deck
The roof deck is private lounging area looking toward the prudential building. Looking east is set for dining and cocktails with a vision of starry skies and the city all light up.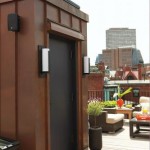 Luxury home renovation – Featured in New England Home
---
Contact Connaughton Construction
to discuss whether solar panels are a good choice for your home. Set up your personal Consultation. If you prefer to talk to someone on the phone, please call John with Connaughton Construction at 781-899-1438 x 14 or Ellen at x13.
Get quarterly up-to-date information on other environmentally savvy home renovations.

More Inspiring Articles
Hidden Challenges of Historic Preservation in Boston's Back Bay
Connaughton Construction Featured in New England Home
Selecting Reclaimed Flooring for the Home or Store
5 Eco Friendly Choices for Building and Remodeling Part 1 of 2
5 Eco Friendly Choices for Building and Remodeling Part 2 of 2
Six Critical Decisions a Construction Manager Helps You Make
Caesarstone: Colors, Textures, and Applications