A place in time where classic architecture meets contemporary design. The style is to go natural with continuity in textures. Trends give us new ways of seeing and thinking. They sometimes reflect larger shifts in our society's mode of living. As with most other aspects of existence, they don't last forever.
With that, we've polled the mind of one of our region's top building professionals to give us an overview of what they see coming, staying, and going—in New England style.
One thing remains status quo – Our clients want the best materials and the best craftsmanship.
Kitchen Design
One of the best ways to ensure you're creating a kitchen with design staying power is to pay attention to the current direction of kitchen trends. For starters, the popular colors in kitchens this year are light shades of white and gray. Gray is such a classic color. It serves as the perfect background color for any room and lets us add other elements and layers to the aesthetic.
Pendant Lighting over kitchen islands
Kitchens are no longer just viewed as functional spaces. Homeowners want to infuse their personalities into every space in their homes, and one of the best ways to add a sense of personal style to the kitchen is with lighting. More people are choosing large pendants or statement lighting for above their islands or centered in the space.
Pendant lighting over islands. LED lighting both recessed and under counters.
Custom Kitchen Cabinets
Custom kitchen cabinets also sport light colors and often times darker color island cabinets for a dash of color, a contrast, to add interest to the room.
Tile Backsplash to countertops
We have been seeing tile backsplash in glass, stone or ceramic are popular. This is where the continuity in color is continued, using glass, stone or ceramic for texture. Glass adds to high gloss we see in painted cabinets and painted millwork.
Stainless Steel Appliances
People are spending a lot of time in the kitchen, chefing it up, entertaining, and family gatherings always go well with good food. Stainless steel appliances are still popular. High-end gas ranges, such as Viking and Thermidor with double wall ovens and separate gas cooktops. Custom stainless steel, brass or built-in vent hoods are popular.
Granite and Quartz Countertops
Stone countertops remain popular; granite, quartz and Caesarstone. Granite was once the gold standard in kitchen countertops, but it's being phased out in most kitchens thanks to new, more durable options. Surfaces like engineered stone and soapstone offer a similar look to granite but require less maintenance.
Granite vs. Quartz: Is One Better Than The Other? | HGTV's Decorating …
www.hgtv.com/design-blog/design/granite-vs-quartz-is-one-better-than-the-other
Goose Neck Faucets
Goose and round neck faucets are very popular in the kitchen. They can be pulled out and used as a spray faucet for larger stainless steel or porcelain sinks.
Bathrooms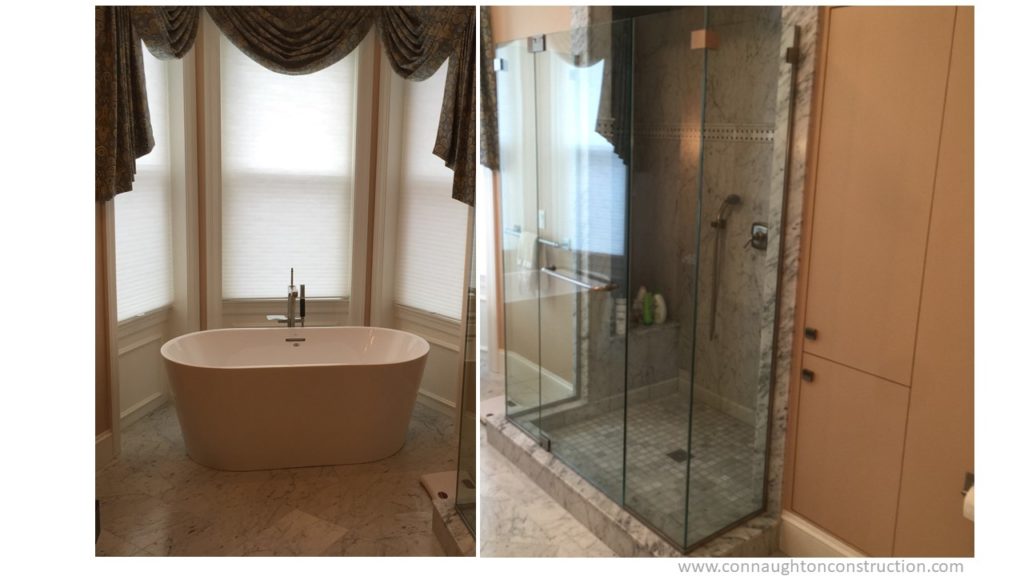 Luxury baths include both the large walk-in showers to the freestanding soaking tubs. Large tile or stone slab showers with body sprays and rain shower heads are popular. Doors to the showers are frameless. In New England, bathrooms are largely heated tile floors and heated towel bars. Countertops to double sinks are marble or quartz stone. Vanities are custom natural wood or painted for a splash of color. White isn't just for the kitchen. It pours into the bathroom as well.
High-Tech Toilets
Smart toilets feature several luxury conveniences, including hands-free flushing, automated lid opening and closing, seat heating, ambient lighting, and Bluetooth technology. The new ActiClean self-cleaning toilet from American Standard allows homeowners the ability to clean the toilet with a quick push of a button. A growing number of luxury hotels are including smart toilets, bidets, and other amenities in the bathroom. People enjoy the experience of using these toilets abroad and want to bring that experience to their own homes. —Andrea Mongeau
Bigger Windows
Glass curtain walls found most commonly in commercial buildings, are being used more and more in residential construction. These expansive walls of glass allow for an almost seamless view of the outdoors and are part of an overall trend toward larger windows to let in natural light and take advantage
of views
Interesting Ceilings

We are big proponents of using metallic tea paper on ceilings. It is especially effective in smaller spaces, such as powder rooms, or within the coffers of a ceiling. I also love to create cove ceiling details for indirect lighting. —Meichi Peng
Beadboard is popular again on ceilings, especially painted a soft white. The gentle white lines give a room a cozy feeling and remind us of older times, when things were more relaxed. —Ron DiMauro
Paneled Rooms
Paneled rooms have never been trendy, for us. A beautifully paneled room is always classic, warm, comfortable. It needn't be stuffy, especially if it is painted. Painted surfaces are almost always my preference over stained wood, anyway. —Jon Hattaway
Connaughton Construction has renovated several homes with classic mahogany walls and African Mahogany wall paneling shown in this luxury library.
Connaughton Construction, has over 30 experience implementing many sustainable constructions, energy efficiency, smart technology, updated kitchens and baths, open floor plans and home offices.
Request a FREE Consultation with Connaughton Construction and let the new custom home project begin. Design your story with Connaughton Construction.
---

Do you have your own project and need the hand of an experienced custom home builder?
Contact Connaughton Construction to discuss your sustainable construction, energy efficient home, open floor plan, kitchen and bath update, home office design project.
Set up your personal Design Consultation.
If you prefer to talk to someone on the phone, please call John with Connaughton Construction at 781-899-1438 x 14 or Ellen at x13.
About the Author. "Lover of all things digital – writing, SEO, websites – Carol Scalzo is the founder of Hit-the-Web Marketing where she helps businesses create significant, consistent, and valuable pieces of content. You can see more of her work at The Retail Factor, follow her on Twitter, or join her email list for businesses who want to turn their websites into lead generating machines."