What is the Millennials Home Buying Wish List? The millennial generation is becoming an increasingly important part of the housing market. According to a 2015 National Association of Realtors study that looked at generational housing trends, Millennials, those born between 1980 and 2000, comprise the largest segment of the buyer market.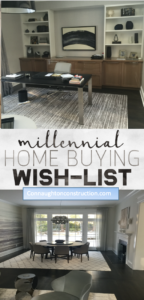 They're young professionals who prefer a turnkey home that needs little or no work. They are creative, romantic buyers who want to invest sweat equity and money over time. They want to put their personal stamp on the property, to add value for the future. Research shows they want sustainable construction, energy efficient homes, smart technology, updated kitchens and baths, open floor plans and home offices.
Sustainable Construction
Millennials seek to have homes that are higher energy efficient than standard construction methods. Sustainable construction for a millennial combines an integration of the ecological, economical and social balance. These components create cost-shifting opportunities to benefit both the efficiency of the home and the builder's bottom line. See Green Home Building and Sustainable Architecture.
Millennials seek Energy Efficiency
With energy costs on the rise and growing interest in protecting the environment, young buyers are conscious of buying homes that are green.
Today's buyers are looking for energy-efficient homes. If the home is not already set up for energy efficiency, the Millenial buyer will factor those costs into their budgets so they can do it after they buy. Millennials are savvy on insulation levels, seasonal energy-efficiency ratios, and other energy-efficiency factors.
Smart Technology
Today, buyers want to know about the home's technology. They want to hear about the local cell service and Internet speed capability.
In some cases, a house's appeal can be increased or diminished because of the strength of a mobile carrier's signal or its Internet service provider options. Internet and cell service matters a lot to this generation. They're going to ask how well the cell signal and internet service is at this location.
Updated Kitchens and Baths
They want to buy a home with a new kitchen and new bath fixtures and design. New fixtures are especially important for today's young, budget-conscious buyers.
The primary reason younger buyers seek updated kitchens and baths is that they have limited budgets. Most of their savings will go toward the down payment and furnishings. Kitchens and bathrooms are also the most expensive parts of a home to update. Young homeowners cannot afford to sink a lot of money into those areas.
While updated kitchens and bathrooms may bring in a younger crowd, remodeling costs should give a seller pause. After all, if those updates aren't in a young buyer's budget, they probably aren't in a seller's budget either.
Open Floor Plan
The kitchen has become the hangout room along with the family room. An open space that can easily transition from kitchen to the TV room is high on the list of the perfect home for young buyers. In essence, the kitchen is the new living room.
Millennials are attracted to an open floor plan, rather than a layout with many small rooms dividing the home because the younger homeowners entertain. They want people to flow through the home during gatherings, rather than be sectioned off in rooms.
Home Office
More than 13 million Americans work from home. All signs point to that trend continuing, which makes a home office important for many buyers. Home offices have vast appeal and are not just for those who work from home full time. As technology continues to make us more mobile, young buyers have more options than ever to work from home, depending on their job. Having a dedicated space is important because it will help keep them focused and concentrated on work while they are at home on a call, planning a presentation, setting up their workday, or simply paying bills.
Connaughton Construction, has over 30 experience implementing many sustainable construction, energy efficiency, smart technology, updated kitchens and baths, open floor plans and home offices.
Request a FREE Consultation with Connaughton Construction and let the new custom home project begin. Design your story with Connaughton Construction.
---

Do you have your own project and need the hand of an experienced custom home builder?
Contact Connaughton Construction to discuss your sustainable construction, energy efficient home, open floor plan, kitchen and bath update, home office design project.
Set up your personal Design Consultation.
If you prefer to talk to someone on the phone, please call John with Connaughton Construction at 781-899-1438 x 14 or Ellen at x13.