Consider the art of spatial planning in home construction and renovation can make all the difference in your space? Are you someone who had a true love for the classic charm and architecture of Boston Brownstones – and always imagined living in one? No matter if you desire a newly constructed custom home or you're ready to move full swing ahead with a home renovation, spatial planning is essential to consider.
Spatial Planning Allows for Easier Living with New Construction or Renovations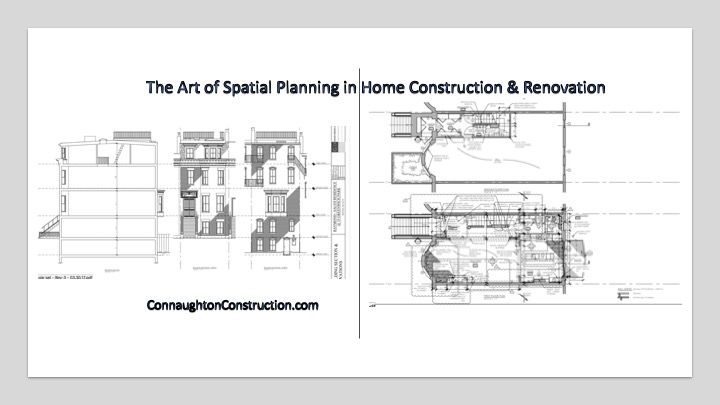 From floor plan creation to deciding on suitable art for the walls, spatial planning includes elements of design. It is a crossover of engineering and art, as it incorporates aspects of both architecture and interior design. Ultimately, it is organizing the use of space available within your home to be most effective for your lifestyle and activities. At the same time, considerations are made for appropriate levels of lighting, sightlines, and overall flow. Along with these key points, the homeowner's personal style and vision cannot be overlooked.
Optimize for Usability, Proportion, and Scale
Whether creating a new space or modifying an existing space to better suit your needs, spatial planning optimizes the use of square footage with adjustment of the layout (sometimes moving walls), fixtures, colors, and furniture placement. It takes into account usability, proportion, and scale.
Placement of furniture, options for storage, wall space, and both natural and artificial light sources are considered elements of spatial planning within a living space. The core objective is to enable people to move easily into rooms and spaces so that carrying on a daily routine is frustration-free. Many people desire a more simplified lifestyle. When it comes to day-to-day existence in a smaller area, maximizing the usability of available space certainly makes for the easier living.
Create the Perception of a Larger Living Space
Spatial planning analyzes how living areas can be best utilized to create a home environment that improves the quality of life for occupants. Great spatial planning and design also deliver the perception of living in a space that is larger than its actual square footage. Consider too, the right color palette can sometimes lend to the illusion of openness when actual space isn't an option.
Surprisingly, spatial planning doesn't only involve interior spaces. Outside views and access to outdoor spaces all must come together.
Natural Lighting and Lighting Solutions
You may want to incorporate more light into certain rooms based on activities happening there. Whether it's taking advantage of natural light streaming in through floor to ceiling windows or coming up with customized lighting solutions, spatial planning, and design incorporate solutions that enable the space to best work for you – and be aesthetically pleasing as well.
Recessed Lighting
When creating lighting solutions, how far apart should we position recessed lighting fixtures? Start by dividing the height of the ceiling by two. If a room has an 8-foot ceiling height, you should space recessed lights approximately 4 feet apart. If the ceiling is 10 feet high, you'll aim for each fixture to be placed approximately 5 feet apart.
Create Focal Points where There Are None
There may be architectural features that serve as focal points in a room, such as a hand-carved dinner table or a stone fireplace, or built-in cabinets. Or, there could be an objective to maintain a homeowner's desire to balance the blend of traditional and modern. Spatial planning ensures that its such features carry visual impact, yet doesn't interfere with the overall use of a room.
Spatial Planning The Kitchen Workzone
One room that is central in every home is the kitchen. Kitchen design requires smart placement of work zones. Every kitchen must have a natural pathway between the sink, cooking area, and the refrigerator. Also, the width of a working area for a kitchen triangle space should be at least 42 inches for one cook and 48 inches for multiple people working in the kitchen. Everything you need should always be easily within reach, but you don't want to be bumping into another person should you have a helper!
Spatial Planning Kitchen storage and organization
When it comes to making a kitchen more usable, Spatial Planners think of integrating features into your cabinetry for storage and organization, keeping what you need right at your fingertips. Have your trash can hidden with a pull-out feature in your kitchen island. Storing spices inside your pantry door. These are solutions a spatial planner might suggest to improve the flow of activities involved in food preparation. As technology evolves, including a tablet mount below a cabinet to enable you to easily follow recipes found online or even providing a place to conveniently charge devices while working in the kitchen bring forth new considerations.
Every home is unique. There are similarities in many projects but unexpected surprises often come up when renovating. There could be constraints in how spaces flow from one room to another, and sometimes there are budget constraints. Prioritizing desires and planning the placement of walls, features, and furniture so that everything works in sync, can be a challenge at times!
In the end, you want a place to call home. Spaces that are welcoming, comfortable and fully functional.
Spatial Planners Work in Conjunction with Contractors
Naturally, you want to work with a contractor who will be an essential part of a cooperative team who will carry out your vision. It's also critically important that your contractor gives you realistic feedback to ensure the project moves forward smoothly.
Connaughton Construction understands your desire to have a home environment that not only meets your aesthetic requirements but will also be workable with for your day-to-day living patterns. Your home is your sanctuary. Ultimately, you want a space where the chaos of the world is left behind, and your soul is fed with calm and positive energy.
---
Contact Connaughton Construction, offering quality in distinctive craftsmanship, attention to detail and dedicated professional performance. We are specialists in building new custom homes and renovating luxury homes – including historic Boston brownstones – for over 30 years. Hire the professionals who work as a team to make your dream home a reality.
Request a FREE Consultation with Connaughton Construction and let the project begin. Design your story with Connaughton Construction.